Preeti an 7th std standard student from village Surungali in 2013 told us "she wants to be astronaut" that amazed us. Because in a village of hardly any TV, Satellite, forget about internet but no desktops and 2 school at long distances with poor infrastructure her confidence and knowledge that she wants to be an astronaut. We asked her what she is doing for achieving to be astronaut, she said she goes to school but she does not know exactly how to be one? She spends her time after school looking after her younger brother and doing daily chores of house till her parents return from farm. She does not have place to study or read amazing stories of astronauts after school or in school, she does not  have access to internet to google "how to be a astronaut". Surungali is a village  close to Aurangabad and native village of our creative head Mr. Bhagwan Jadhav.
So we took up this challenge not just for Preeti but to help maximum children of Surungali who wander after school in village or farms and who do not have access to basic education infrastructure like a place to read, learn and play and have access to academic and non academic learning material. A place where they can read wonderful stories, do their homework, interact, play games etc. A place they can share and learn. We wanted them to give a place one stop solution for their educational need and we called it "StudyMall"- a educational mall, its more than a Library.

After 6 months  of opening StudyMall, our StudyMall children Avinash told us on one of our visit, he cannot study after 6 PM because there is no electricity. The children urged donors and supporters through a video and we passed on this video message on our social media, and within a month we supplied them solar lamps.
In our summer vacation visit children told us they want to play as they have vacations now, but they lack sports equipements. So  again with help of our supporters we added more sports and games.  It started with cricket competition but now they have one sports event every month.

Then there came a visit where children became so trusting towards us they demanded desktop right away as we entered village, with bunch of flowers they grew in open space of our StudyMall they welcomed us and then immediately said unanimously "we want computer" and as again one of our supporter within 1.5 months sent us desktop which is children's new friend now in StudyMall.
Recently on our visit an elderly couple meet us and blessed us, we were not surprised as we are fortunate always to get blessings on our trips but we were curious. They told us there son used StudyMall to study for his entrance exam  and now is enrolled in a military job.
What started as just a small idea of providing place to read books has turned into  a place of trust, learning, development and growth which was impossible without our kind donors and supporters.
But there is still a long way to go we are yet to provide more books, desktops, e-learning, vocational training and so much more to surungali chidren.  And there are so many villages in need of  help where children are waiting to be doctors, lawyers, hi-tech farmers, sportsmen, soldiers and the list of dreams goes on.
We are happy and more motivated to work because seeing few of the results of StudyMall lbenefiting rural children like  in increasing grades, studytime, sports interest, awareness on career path extra curricular learning, personality development and playing sports has increased substantially.
Now we are gearing up for 4th StudyMall at Chikatgaon village, Aurangabad, support us on https://www.bitgiving.com/project/index/id/BIT469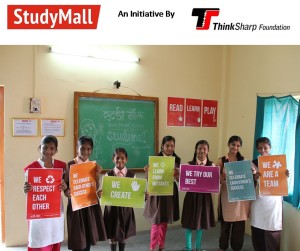 Because we believe when Children are strong a society is strong and "It is easy to build strong children but difficult to repair broken men". We have easy chance to build strong children now.
Thanks and keep your Human side up that will keep you smiling….
Written by -Dr.Shraddha M Bhange
Volunteer and Writer for Thinksharp Foundation.
Web- www.ThinkSharpFoundation.org
Fb- https://www.facebook.com/ThinkSharpFoundation
Twitter- https://twitter.com/ThinkSharpFound
YouTube – https://www.youtube.com/channel/UC-4cDXLuwAThHXhNOazv5KA
Media Coverage- http://m.indiatoday.in/story/read-play-learn-surangali-jalna-district/1/444148.html
Donate – https://www.bitgiving.com/project/index/id/BIT469
(22)