When my daughter was 2 years old, I started to introduce her to "Good Manners" like washing hands, brushing teeth twice a day etc. I used to repeat my stories and examples so that she can correlate and learn. But most of the times, I was in vain.
One day, I showed her an animated story of how a boy had to pay a visit to dentist for not brushing his teeth during night. That did the trick!! Hurray!! I started showing her more such stories and I was surprised to see the impact on her.
Now in Sr.KG, she has been introduced to Solar System at school.
When I tell her that we all people are lying on the earth and the earth is hanging in the space, she doesn't seem to have understood. I showed her a video which clearly explains Solar System with nice colourful pictures and good voice-over. Now she not only knows about Earth but also the hottest and coldest planets, the nearest and farthest planets, the Saturn ring etc.
https://www.youtube.com/watch?v=Qd6nLM2QlWw
And there are many such instances happened between us which reminded me my childhood.
When I was in school, my favourite subject used to be Science where the teacher used to draw colourful images on the black board. Once the picture was understood, it was very easy to write about it in examinations.
I also remember how my Grandmother used to make us watch The Ramayana and Mahabharat movies in Television. Those movies helped us to imagine about Ancient India, the Kings, the British, the Sultan and various reign's culture.
I understood that; a picture is worth a thousand words.
What does the science say?
A Message from Your Brain: I'm Not Good at Remembering What I Hear.

A new study shows that we are far better at remembering what we see and touch than what we hear.
"I hear and I forget; I see and I remember" – Chinese proverb
"Our auditory memory isn't as robust as we might like to think it is," says Poremba. "We think that we are great at integrating all the senses," but the experiment shows that tactile and visual memory easily trumped auditory memory.
Technology Can Help
Along with Black, technology provides many possibilities for multisensory learning. Interactive computer graphics and videos that add more senses to the mix can "make visual cues much stronger" and "improve visual memory," she says—and can also increase attention span. In other words, the more varied ways in which you are exposed to and interact with the material, the more likely you will be able to remember it.
Read full article:
https://www.nationalgeographic.com/news/2014/3/140312-auditory-memory-visual-learning-brain-research-science/
This made me understand the reason behind the word. DIGITAL LEARNING echoing all over the world.
Digital Learning is nothing but learning some useful content using digital tools like Smart pads, Projectors, computers, etc. which can provide a better look and feel of the content than that on the paper.
It is a new avatar to our Legacy Learning System!
Digital Learning in Schools
It is merely important to introduce Digital Learning in schools and colleges where a person's most of the educational phase lies.
Most of the schools and colleges in major parts of India have adapted this new education methodology.
Digital Learning in Schools in Rural India.
Education itself is a challenge in Rural India whose main priority is to earn the livelihood. Parents in rural India would rather send children to earn daily wages.
This is one of the main reasons for school dropouts in rural India.
Child's lack of interest in studying the textbooks is also another reason for the increase in dropout percentage.
Digital Learning through its interactive and interesting teaching methods will bring back child's interest towards education thus increasing the nation's literacy rate.
Irrespective of their location, expert teachers can share their knowledge with kids via  the new digital tools like video conferencing or can store the content in offline form.
Government's role in promoting Digital Learning in rural India
State as well as Central government has taken initiative to uplift Digital Learning.
The crucial factor is to provide necessary infrastructure in rural areas. Under 'E-Kranti', one of the major pillars of Digital India, the government of India has collaborated with various telecom service providers to set-up infrastructure for internet services in remote areas of the country.
However, more efforts are needed, since only 9 percent of rural India has access to the Internet.
In the Union Budget for 2018-19, the government's focus has been towards improving the quality of education by integrating technology. It has allocated Rs 456 crore for digital education.
Also, Government has collaborated with Samsung to launch their "Smart Class" in around 400 Jawahar Navodaya Vidyalayas across the nation. Samsung is facilitating each "Smart Class" with latest audio-visual tools like Samsung Tablets (41 tabs per class), interactive smartboard, printer and other devices. These classes also have learning apps for Computer Science, Mathematics, English and Science. These latest technology tools help students to learn complicated concepts easily. Samsung Smart Class also enables teachers in retaining the students' attention due to this modern and interactive learning environment.
More info at: https://www.samsung.com/in/microsite/sapne-hue-bade/stories/smartclass/
Government also has to provide regular trainings to teachers so as to make them well aquintained with the new education system.
NGO and CSR activities
Various Non-Government Organisations and major corporates came forward in promoting Digital Education. For instance:
Vidyadhaanam programme by TATA Motors as part of their CSR activities https://www.tatamotors.com/programs/education/
Plan India NGO working towards promoting Digital Education amongst girls https://www.planindia.org/
Pratham – Pratham Education Foundation

Role of Thinksharp Foundation
Being an accused of this rural urban education divide, Santosh Phad, the founder of ThinkSharp Foundation, has started "StudyMall" a complete Digital Class, in rural areas of Maharashtra.
Study Mall offers a complete solution and infrastructure (All in one projector which run on remote and consume less electricity) needed for rural schools. ( Below pic- Z.P School, Aswalamba, Tq.parli,Dist.Beed)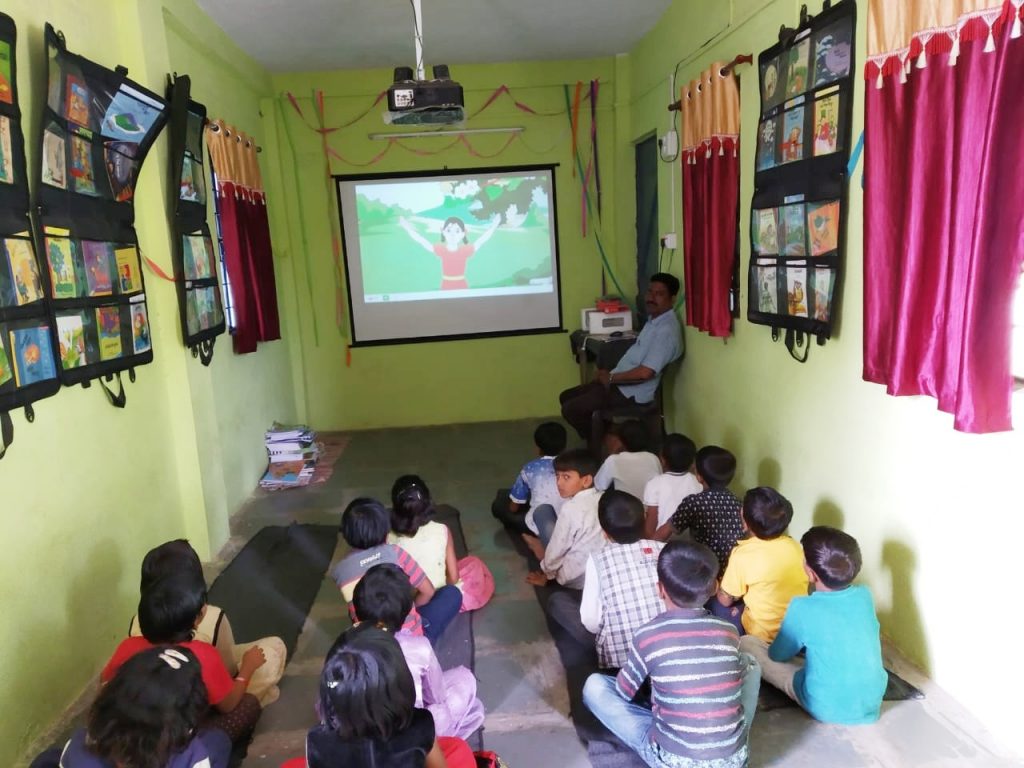 Projector includes-
All educational content aligned with state board syllabus
Other educational content (Offline Wikipedia), ICT content, preloaded educational videos
It connects with WIFI, teachers can connect with internet through HOTSPOT and can show students various educational and cultural content
Also can connect pen drive to show some offline content
can operate on wireless keyboard and Mouse
Easy to use: even though are teachers not available in school, any student can operate the digital tools.
Few glimpses of Digital Learning in Study Malls
https://www.youtube.com/watch?v=kO-uMu5o2AI
https://www.youtube.com/watch?v=lEYfKAv9sHU
https://www.youtube.com/watch?v=6mPmANntjLc
https://www.youtube.com/watch?v=BTUSw6xhmPA
Buy few advantages and get a disadvantage free!!
When misused, every fair advantage has its equal counterparts. Digital Learning too has a bundle of cons which should be addressed.
Moving to digital doesn't mean replacing the teachers. Digital learning should happen under the guidance of well trained teachers. Government should conduct trainings at frequent intervals to teachers so that they can hone their digital and infrastructure skills.
Complete shift of education to digital is not advisable as that will not enable students to learn the regional transcript. There should be hybrid mode where in digital tools will be used on demand to aid the legacy education system.
As digital involves laptops, LCD screens, smart pads which strain the eyes leading to eyesight issues. Necessary precautions have to be taken while watching the smart pads.
Ensuring proper ergonomics is mandatory while sitting before laptops and computers else improper posture leads to several spine issues.
Students should be trained to use the mouse in correct angles which otherwise would cause "tendonitis" , an inflammation or irritation of a tendon, a thick cord that attaches bone to muscle
Hence, Too much is too bad. Moderation is the key to success.
In a Nut Shell
Education is the only weapon to eradicate poverty in India and to change the face of current rural areas. When the best of it is provided to students, it can remove the word "Rural" from India's dictionary.
While urban population can afford the digital tools, it is government's responsibility to provide necessary infrastructure to rural schools.
Together with the collaboration of government and Non-government organizations, the divide between rural and urban education can be reduced thus making the young India achieve par excellence.
Happy learning!!
Written By – Malathi Krishna (malathi123in@gmail.com)
(116)