What do you picture an second year engineering student studying in metro city like Mumbai? Attending classes, struggling with studies, keeping up peer pressure by attending movies, Whatsapp, Facebook,Instagram, showing his art in annual functions? Yes i thought too. But dimensions changed when we, ThinkSharp Foundation team met Saurabh.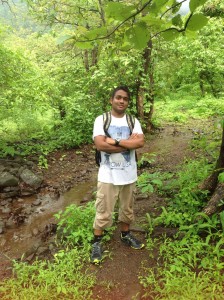 Saurabh is an youngster who goes beyond only educating himself. He is educating 200  children by bringing better educational resources in their school at Z.P.School vangani village. But his social work is not limited to this but covers a lot of things like working for water shortage in drought areas , spreading social message via videos etc.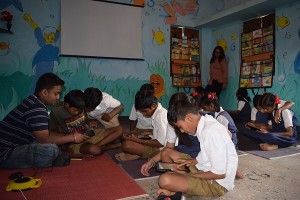 Vangani is a village which is in close proximity to Mumbai, 1.5 hrs only and next to Badlapur station. So we expected this village to be hi-tech or developed than other remote villages.This was our team's reaction when Mr.Saurabh Mangrule contacted us. We thought we help only remote villages which are actually in need of better rural education infrastructure.  Vangani might not be the correct place to start of our third StudyMall as it is so close to Mumbai.
But as its said motivation is contagious, Mr.Saurabh was very enthusiastic for starting StudyMall and he was very much sure that Vangani  children are very bright and in need of StudyMall. His mother is already helping  Vangani children by  being there loving teacher, and Saurbah has developed a close bond while visiting Vangani with his mother. He also wanted to help his mother and his little buddies by providing them in better education infrastructure.
Charged up with Saurabh's  motivation, we decided to visit Vangani in August 2015 and we were greeted by shower of rain at Vangani village.  An equal amount of shower of enthusiasm from Z.P.School teachers and students awaited for us as we entered school premises.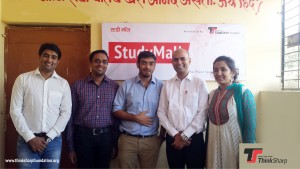 As soon as we entered school premises, we saw Saurabh was surrounded by all students and they were very much connected to him treating him like there big brother. Students were so bright they instantly connected to Thinksharp Foundation team as well.  A 6th standard young enthusiastic girl said to me "are you doctor, didi? i want to be doctor as well" .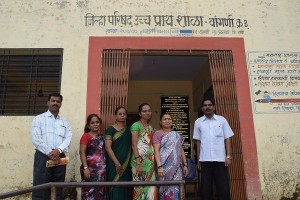 Z.P school has 200 students from 1 to 7th standard and with 5 teachers and only 4 classroom. There is no library, sports material or any additional learning infrastructure.Teachers were passionate, students were bright.  But for  them to help each other more educational infrastructure was missing.
We decided within our team to help this amazing school. And thus began our journey of StudyMall our third project and first digital project at vangani village.But was this an easy journey ? Maybe not. Was this journey really helpful? Definitely yes as this is  helping 200 children of 1 to 7th std read, learn and play . They are  overall enjoy learning everyday.Was this journey possible because of us only? off course not without our supporters  especially Mr.Saurabh and YVO.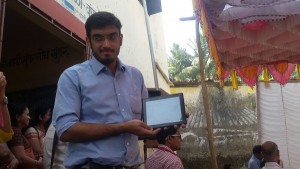 We began our funding campaigns to raise funds to provide books, sports, arts and craft, digital projector, smartboard, e-tablets on BitGiving (https://www.bitgiving.com/), Milaap (https://milaap.org/)  and our own website in Sep 2015. As usual we constantly urged  through our Social media to our supporters and once again they responded to us. The best part was when Young volunteer organisation (YVO) http://www.yvorg.in/  committed to support us in Dec 2015. They committed us that they will be bearing 80% cost of our  StudyMall.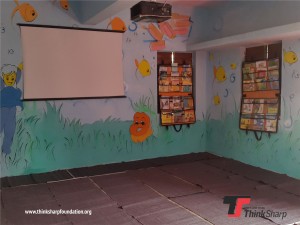 In Dec 2015, this StudyMall was ready with digital projector with kind help of E-Prashala company (http://www.eprashala.com/). This projector  has 500 GB data which includes 1 to 7th standard syllabus, extra curricular syllabus including poems, stories, geographical,mathematical data etc. The smartboard  with it is interactive as well, geometrical figures, drawing etc can be taught on this board. Educational tablets from Classpad company (http://www.classpad.in/) were distrubted five in number as pilot project. This   has again interactive learning 1 to 7th std syllabus and many more added knowledge repositories .  And the most important part of our every StudyMall is Pratham books ( http://prathambooks.org/) . These  were added with 2 Library kits and having 500 books approx.  Voltas Company (http://www.voltas.com/)  provided us with Arts, crafts material through their CSR.
To create awareness on opening of StudyMall  we conducted drawing competition on 22 Dec 2015. This was to  attract students to attend school. It also  motivated parents to send children to school as now more better infrastructure was available at school. This drawing competition prizes were  distributed on StudyMall opening day.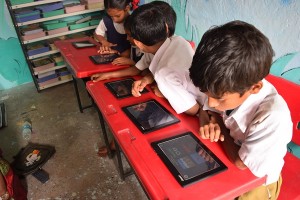 On 9 Jan 2016 we gathered for StudyMall opening at Vangani village . Saurabh kept his word of helping Vangani village children by being there  responsible big brother.Many dignitaries graced this occasion like Mrs Meena Narula, a renowned educationist. Mr. Anand Chedda from YVO , Mr.Waghmare, Block education officer. Also our supporters who graced occasion despite their busy professional schedules like Dr.Fatima, Mr.shetty, Mr.Khanolkar, Mr.Jadhav, Durva, Saurabh's enthusiastic and socially active young friends etc.
What do you like best about StudyMall? I asked students after opening ceremony. Before i finished my question, answers came in chorus from children "projector where we can watch animated stories, e-tabs where we can learn maths, books which have funny stories of animals, drawing material" the answers were never ending.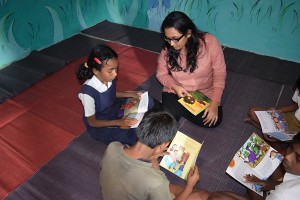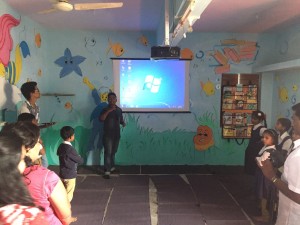 The best answer was which made us all smile was from a 4th std student "my teachers do not get throat pain now because they can play poems on projector and they no longer need to shout".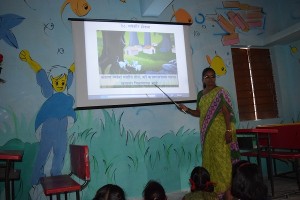 "Madam lets take one picture in different pose, lets take selfie,  Boys are always taking pictures with saurabh dada and we do not get chance, so lets take all girls picture today" this was request in afternoon once girls of Vangani school got acquainted with us.
We are seeing benefits of this StudyMall helping Vangani tremendously since 9 Jan 2016 continuously. Increased attendance, increased love for learning , increased spending time on study or learning activities at StudyMall etc.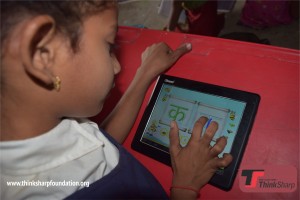 Launching StudyMall here is just the beginning, we are long way to better education resources here. We still need lot of support to  add more educational infrastructure.
You can donate and support us to help Vangani and many other villages too, our current campaign is for Chikatgaonvillage, Aurangabad donate now to help_click on this
Thanks and keep your Human side up that will keep you smiling….
Written by -Dr.Shraddha M Bhange
Volunteer and Writer for Thinksharp Foundation.
Web- www.ThinkSharpFoundation.org
Fb- https://www.facebook.com/ThinkSharpFoundation
Twitter- https://twitter.com/ThinkSharpFound
YouTube – https://www.youtube.com/channel/UC-4cDXLuwAThHXhNOazv5KA
Media Coverage- Click to read recent media coverage on National platform
Donate – https://www.bitgiving.com/project/index/id/BIT469
(153)