Our Founder Mr.Santosh Phad has been selected in top 100 social entrepreneurs by Action For India, AFI Forum 2018 powered by LetsEndorse, the forum was held at  Imaginarium, AliGunjan, Alibhag, Maharashtra from 3rd Oct 2018  to 05 oct 2018.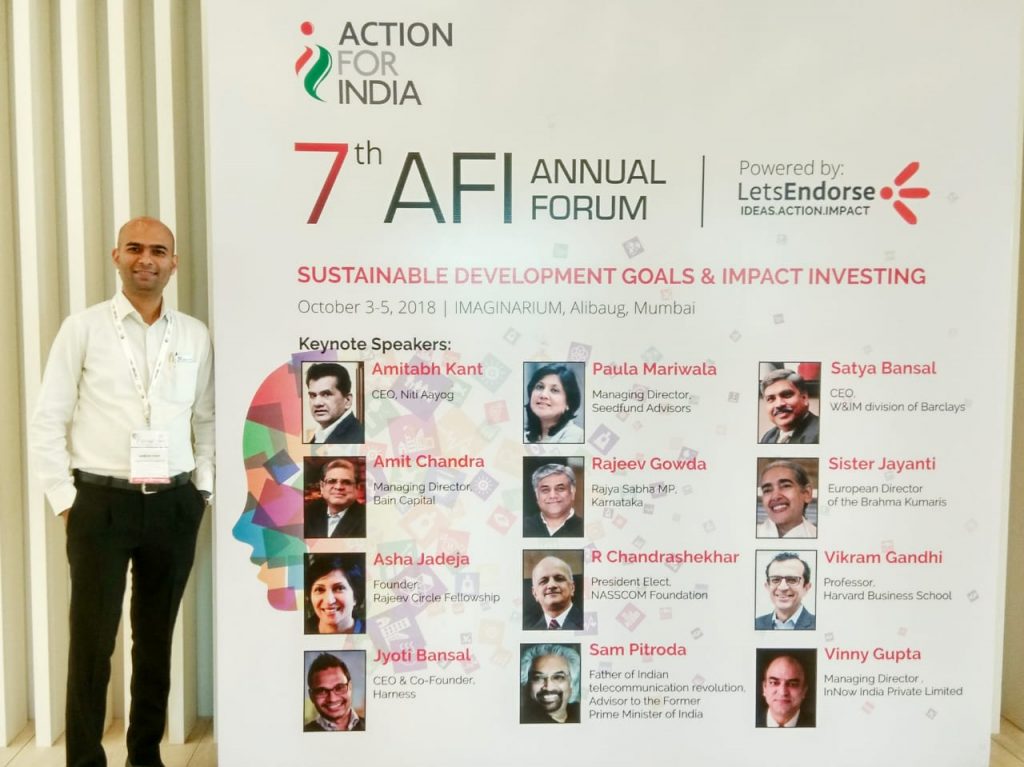 The AFI Forum is the annual flagship event of Action For India, bringing 100 hand-picked social innovators together with influencers, Corporate CSR partners, Bureaucrats, Policy Makers, and impact investors to help those entrepreneurs scale their organizations. The Forum aims to benefit social entrepreneurs working in the following six sectors – agriculture, education, energy, healthcare, financial inclusion and livelihoods.
It was great platform to share with other fellow social entrepreneurs and know their innovative solutions to solve social problems.
Main attraction was insight from Mr.Sam Pitroda through video conference from Chicago. Our Founder interacted with him over phone and discussed how Government can frame favorable policies for Social Enterprises in India and how Business Schools can more focus on teaching social entrepreneurship along with preparing them for job ready.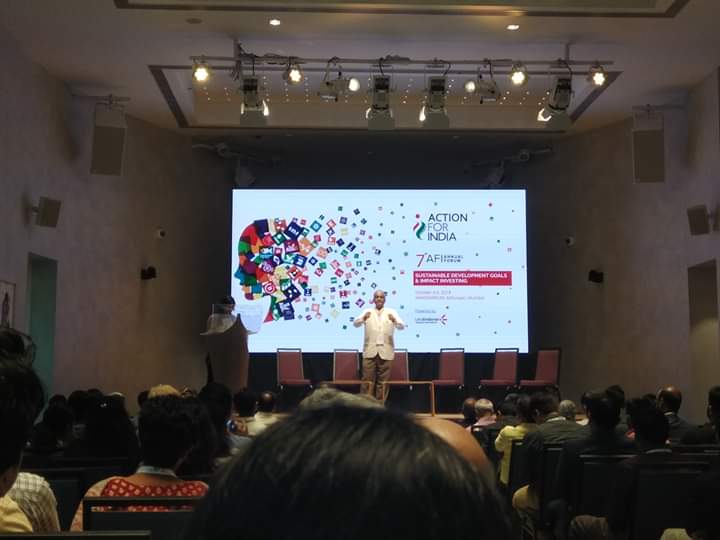 Other esteemed speakers included but not limited to Mr.sanjay Kadaveru (Founder, AFI) , Amit Chandra ( MD,Bain Capital), Asha Jadeja (Founder, Rajeev Circle Fellowship), Ms.Prerana Langa (CEO, Yes Foundation), Sister Jayanti (European Director, Brahma Kumaris)  R.Chandrashekhar( President, NASSCOM Foundation).
Few highlights included 
Mr. Amitabh Kant
, the CEO of Niti Aayog, who talked about social entrepreneurial landscape of India.  
Asha Jadeja Motwani
,  talked about  what social entreprises should consider for their scaling journeys. 
Dr. Annurag Batra
 (Business World), about his plans to launch a special issue of the magazine focused on social entrepreneurship
Written by -Dr.Shraddha M Bhange
(75)